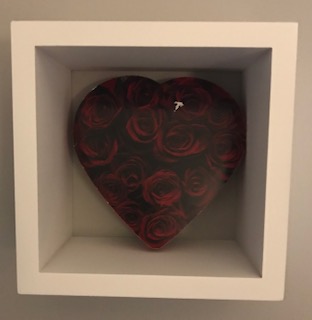 Do Small Things with Great Love
My back turned towards the door, head down focused on the task in front of me, I heard the small, shuffling steps of a child entering the office. "Christine, I have something for you". I immediately turned to see a young boy with a shy smile, hands held behind his back. Wondering what he had brought, he slowly revealed a small, heart-shaped box. Placing it gently in my hands, he looked at me with expectant eyes. I smiled, curious as the clear, cellophane wrap was missing. Lifting the lid, the wrapping wasn't the only thing missing, the chocolates were as well! Hiding my surprise, he eagerly said, "I gave the chocolates to my mom, but I asked her if I could give you the box!". I thanked him for his very thoughtful gift and we began to fill the small box with little things scattered across my desk.
I have kept this special gift over the years. In my new role/job, in a new office, it has a new place to be displayed. To remind me that as Founder and Executive Director of UrbanPromise Ottawa, the most important part of my job is to do small things with great love. To make sure I have a right heart attitude before God, before I go and do anything for God.
In Scripture, 1Corinthians 14:1a says "Let love be your greatest aim". At UrbanPromise Ottawa, we aim to do small things in 2022 with great love simply because our God is a God of love. Of relationships. This is why He sent the greatest gift of all, Jesus, to the world so that we could have a relationship with Him through the sacrifice of His Son on the cross (John 3:16).
As Christians, in every age and stage of life, we are called to love God first and then love others. Knowing this, living this, we can bring our empty hearts to Him daily and He will fill them with His love and a "peace that surpasses all understanding" (Phillipians 4:7).
Our youth today, all of us, need peace. In this age of 24hour news feeds, where the brokenness of our society, even in the church and it's leaders, is known in an instant, many youth have become skeptical of where they fit in as a believer. How can they make a difference? And what is expected of them as a Christ-follower anyways? Who can they look to?
At UPOttawa, we desire to raise up the next generation of leaders to model what it means to become more like Jesus, to love and lead like He did. To grow in their knowledge and love for God so they become who they were created to be by God – leaders, disciplemakers, image bearers, peacemakers and stewards. And from this place, serve others-with love.
"You will find me when you seek me with all of your heart" Jeremiah 29:13